Most people are familiar with the thought experiment Schrödinger's cat, however, few people understand the physics behind the analogy.
Erwin Schrödinger was a leader in the field of quantum theory, a field which aimed to model and predict how subatomic particles existed and interacted with one another. Yeah… they were super nerds.
Many fellow scientists were discovering that the electrons of different elements produced differing wavelengths. These wavelengths, or emission spectrums, are unique for each element, almost like a finger print. Spectroscopy is still used by scientists to determine which elements are present in an unknown sample.
I'll go into the details of what is actually being 'emitted' in a post soon, but all you need to understand is that each element has a unique 'wave function'. When this exciting discovery was made physicists were eager to find a mathematical equation to describe the shape of the various waves produced by electrons and they sought to interpret what these different shapes meant.
Schrödinger devised this wave equation and won a Nobel Prize in physics for his work. You know… no big deal…
The wave equation allowed scientists to predict shapes of various waves and plot them on graphs.
In an attempt to interpret what the wave function of a given electron meant, Schrödinger proposed it could be the density of the charge over time. SPOILERS: It's not.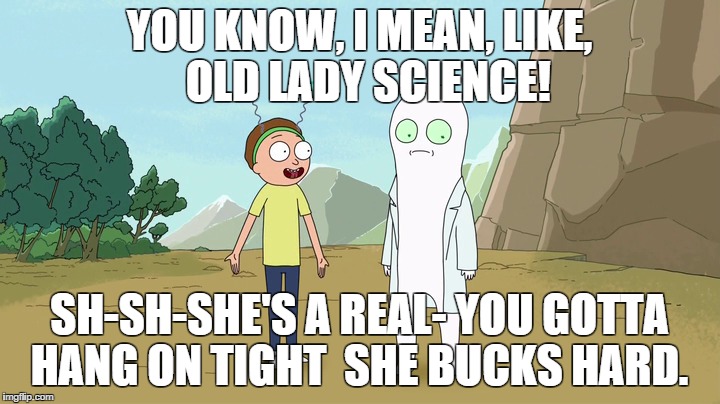 Another physicist with a funny name suggested that the wave function was said to represent the probability of finding an electron at a given point in space. When a wave function is graphed, the points where the function is at x=0 represent a 0% probability that an electron will be found in that space. Points with a larger absolute magnitude represent a greater probability of finding an electron in that space.
This meant that if an experiment was performed where a scientist observed an electron's positioning over many time points, some positions would be more common than others, and this should match the wave equation plot derived from Schrödinger's equation.
It was still unclear what the physical interpretation of the wave function was, does it only represent electrons individually, or does it describe groups of electrons? These questions still exist today. And until we have Professor's microscope from Futurama, we may never fully understand.
A problem that is inherent in Schrödinger's equation is that it gives you the probability of discovering an electron in a certain location, but an experiment is required the know the exact placement. This means that prior to observation, an electron exists in multiple probable places all at once, or as scientists call it: the electron is in 'superposition'. This state of superposition goes away once the electron has been measured.
This was a ground breaking concept in physics, and even now it sounds more like philosophy. Even fellow physicists had a hard time grasping this interpretation. In an attempt to make this more clear Schrödinger devised a thought experiment to explain the behavior of subatomic particles. Most people know this thought experiment very well, it is commonly referred to as Schrödinger's cat. Here is his description of the experiment:
"One can even set up quite ridiculous cases. A cat is penned up in a steel chamber, along with the following device (which must be secured against direct interference by the cat): in a Geiger counter, there is a tiny bit of radioactive substance, so small, that perhaps in the course of the hour one of the atoms decays, but also, with equal probability, perhaps none; if it happens, the counter tube discharges and through a relay releases a hammer that shatters a small flask of hydrocyanic acid. If one has left this entire system to itself for an hour, one would say that the cat still lives if meanwhile no atom has decayed. The first atomic decay would have poisoned it. The psi-function of the entire system would express this by having in it the living and dead cat (pardon the expression) mixed or smeared out in equal parts." (source)
A wave function could be drawn for the probability of the cat being alive/dead much like the wave function of the placement of an electron, with equal probabilities for both outcomes.
Schrödinger's work was, and still is, essential to the field of physics as I have established above. It allowed scientists to understand and predict the function of subatomic particles and created a new subfield of quantum mechanics.
However, it is just as well known to the non-physics community. Even if you don't realize you've heard of this concept before, unless you live under a pop culture rock, you probably have. Popular books, films, shows, etc. that portray alternate realities would never have imagined such a concept if it wasn't for Schrödinger's equation and his thought experiment.
Perhaps the most recent example of pop culture using Schrödinger is the Rick and Morty episode "A Rickle in Time". In a nut shell, Rick freezes time initially to give him, Morty, and Summer enough time to tidy after their giant intergalactic party before the parents get home. Of course, the three of them get distracted/have existential crises and keep time frozen for six months. Because time has been frozen for so long Rick warns the kids not to touch their parents until the timeline restabilizes. Hijinks ensue and a rift in time is created and two realities are created. Now none of that is particularly scientific, more fiction than anything. But then Rick explains that Morty and Summer's 'uncertainty' has caused time to fracture into two equally possible impossibilities. He proves this by opening the front door and it is revealed they are floating in darkness surrounded by Schrödinger's cats.
Rick tries to fix the situation but his grandkid's continued 'uncertainty', his asshole-ry, and a fourth-dimensional being, causes more and more rifts until there are 64 different alternate realities.
All of these possible realities are happening at once due to character's uncertainty, just like how all of the electron configurations of hydrogen is possible until they are observed. The solution in R&M is to strap on time-stabilizing collars on all three characters and restoring the certainty of the timeline. However, in this episode, and many other episodes, it's established that multiple timelines are all occurring at once all with different versions of Rick and Morty.
I think Schrödinger would have been approved of his rival being beaten up by fourth-dimensional beings.